Setting Membership Category


Go to Setup > Membership Category. Name the Member category and insert the amount of discount/ percentage in the required fields.
Runner application will prompt upon expiry
Saving Contact Details


Go to Contacts > New. Insert details and click "Save as New Contact". Set Membership Category under "Membership" tab.
Assign Contacts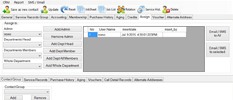 Assign the contact to department, department members, department head and etc.
Runner application will prompt when user assigned
VoIP Call Integration

Select a contact/ group. Click on the "Call" and "Reg" buttons in order to call your clients via VoIP while including remarks. View More »
Case

Create Case by customers, number customizable. Case can be assigned to admin. Runner application will alert incoming cases. View More »
Item Recurrence


Select "Point of Sales Client" > Inventory > Inventory List. Select an item > Edit Item. Set Recurrence details.
E.g. Monthly maintenance fees, insurance fees, license fees, weekly fees etc
Setting Contact Group


Go to Contacts > Group and click on "Group" tab > "New Group" button. Insert the name of the contact group.
Sending SMS, WhatsApp and Email

Go to iSMS/Email > Email. Compose your message to be delivered as WhatsApp, SMS or Email. Add Attachments if needed.
Multiple Employees


You can group multiple employees into departments. Can be accessed via password or fingerprint at the POS Client login. Database information can be shared between clients.
Individual Contact Report


Select a contact from "Contacts List" and go to Report > Individual Contact to view the person's individual details.
Create Service Report


Services can be grouped into service history group or by customer. Services can be assigned to employees and is alert-able.
Service History Report


Go to Report > Individual Service History by contact to view past services provided to a specific client.