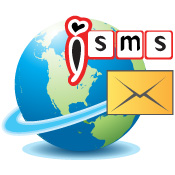 Scan & Download SMS Marketing App for FREE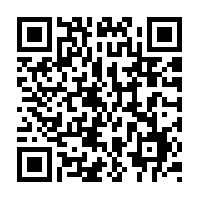 Download: Free
Version: 2.0.1
Size: 1.7 MB
Languages: English, Arabic, Bokmål, Norwegian, Catalan, Croatian, Czech, Danish, Dutch, Finnish, French, German, Greek, Hebrew, Hungarian, Indonesian, Italian, Japanese, Korean, Malay, Polish, Portuguese, Romanian, Russian, Simplified Chinese, Slovak, Spanish, Swedish, Thai, Traditional Chinese, Turkish, Ukrainian, Vietnamese
Seller: Mobiweb Sdn Bhd.
© 2016 Mobiweb Sdn Bhd.
Requires Android:
4.0.3 and up
SMS Marketing Android App Tutorial
How to Use iSMS SMS Marketing Android App
1. First of all, we have to install the apps as following tutorial, "How to install iSMS into android". After you have install and open it, you will able to view as illustration below.
Initializing will be similar to the illustration beside. You have to go to Menu then go login tab to configure their username and password. Besides that, are some descriptions on what is the button about.

Button "Menu" is to show a list of items. Example : Login, Rates, Demo, Contacts and so on.


Button "Settings" is to edit the message settings.


Button "Chat" is to send message.


Button "X" is to reset the whole message content including phone number.


2. In the menu, you will be able to see a list of items such as login, contacts, send sms, reload, demo credit, sender id, country(prefix), send history, reply history, and scheduler as illustrated below. For the website, you will be linked to https://www.isms.com.my after clicking on "website" that found at the bottom of the menu list.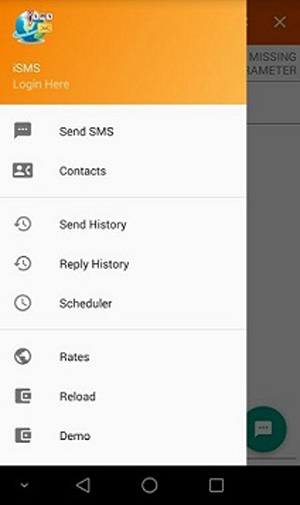 3. You have to login to the app before using it. If you does not have any account, please tap on sign up here to "Register". In the login screen, you have to enter username and password.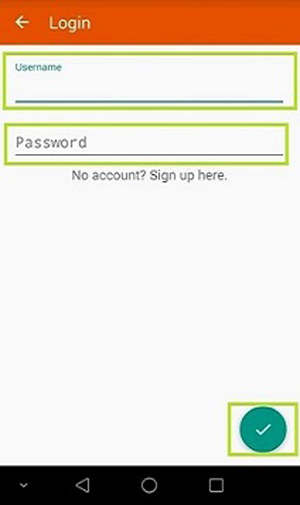 4. After you have entered username and password, system will display a message "Account Saved" which means login successfully.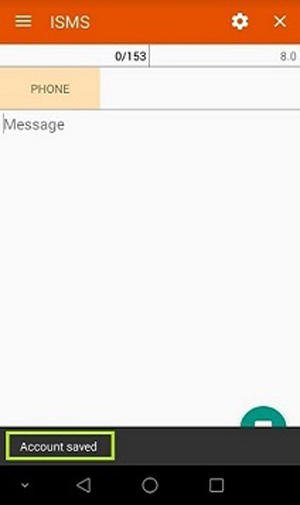 5. If you want to register, tap on "Sign up here", a form will show as below. To register, please fill up the form and tap on "tick" to continue.

6. To reload credit, please view tutorial how to recharge credit HERE. After ordering the credit, you will receive a reload code and key in the reload pin. Tap on "tick" button to add credit.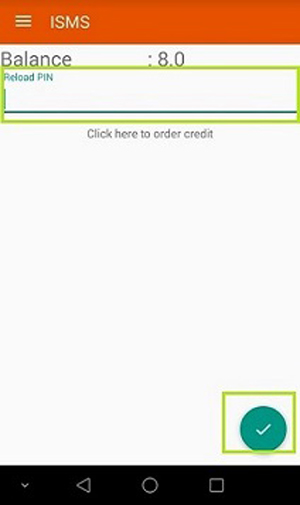 7. As demo credit is only obtainable through mobile number. After inserting your mobile number, tap "tick" to get the demo credit. and enter into box shown illustration below.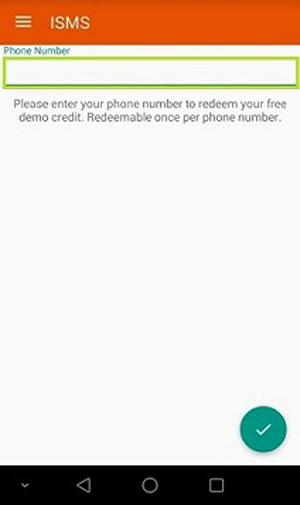 8. Sender ID is optional. If you are in Malaysia, you are unable to use it.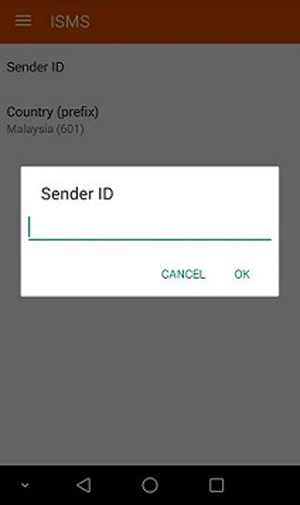 9. Country(prefix) is to set which country you are in. It makes you easy to send a message without typing a prefix.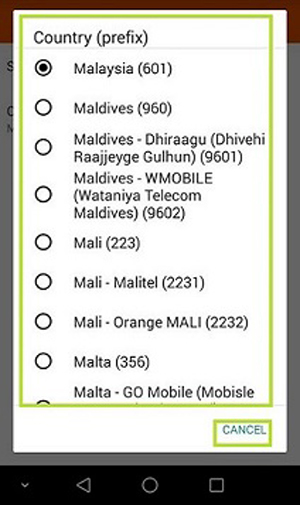 10. This feedback form allows you to write a review so that we can keep improving our service quality. You have to write your name, phone number, email and feedback. Tap on "tick" to send a feedback to our company.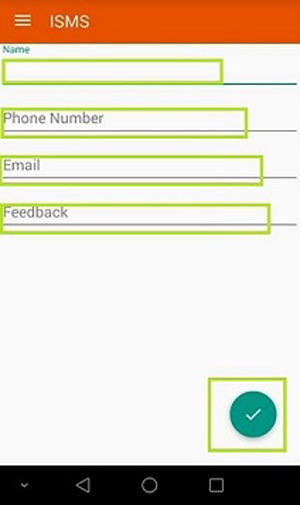 11. After you have logged in, you will be able to send a message by keying in phone number, message and click on "chat" button to send message.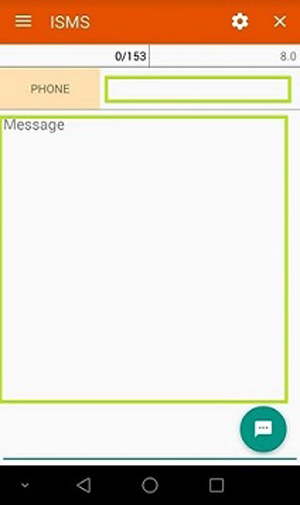 12. You are able to see the prefix rate by tapping on the "Rates" in the menu tab. On the list, it will display all supported country.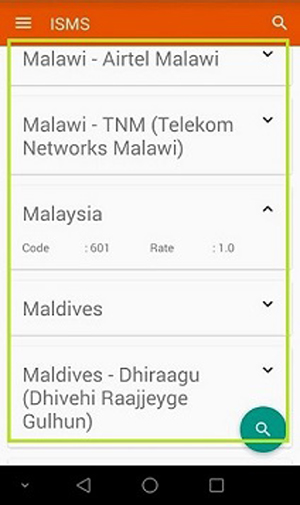 13. You can key in the contact number using keyboard or tapping on Contacts in the menu tab. If you want to reset whole message including the phone number, tao on the "X" button on the top right of your screen.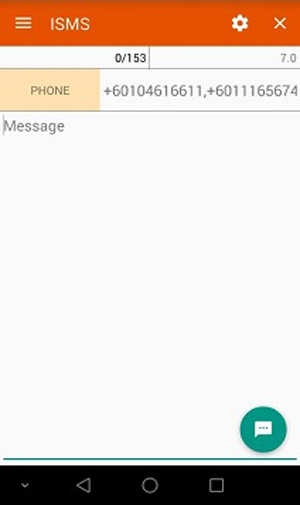 14. When you tap on "Contacts" in the menu tab, (on contact list) you will be able to choose a contact by checking the boxes beside it. As the contacts is checked, press on "OK". Checked contacts will be selected. As you click on "Export", those selected contacts will be exported into csv file. Cancel button is to cancel the activity.
15. You can find "Send History" and" Reply History" button in the menu tab. After tapping it, will display options as below.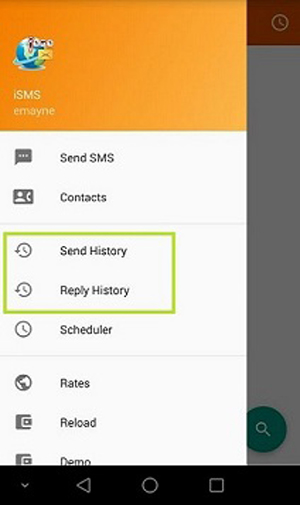 16. Reply History will be similar to the illustration below.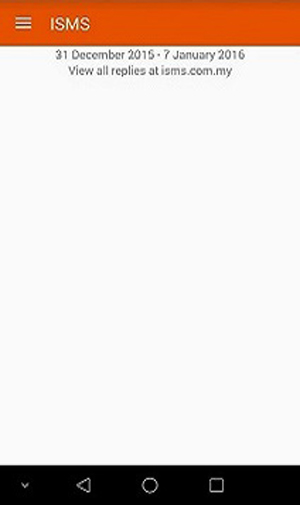 17. You will be able to check the sent history, in terms of when message is sent and to which number it was sent to.